WhatsApp is getting a new feature and a long-awaited one for we WhatsApp users, and I even wrote a post about that if you could remember. This new feature allows you delete/recall messages after they've been sent. To access the feature, just tap the message and hold and follow the on-screen prompt.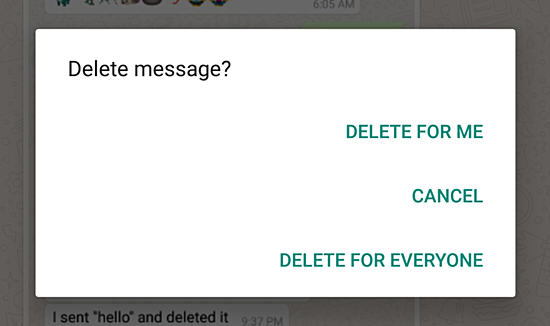 Then you get to choose whether to delete messages for everyone or just for yourself.
If you go for "delete for everyone," the message will get deleted from the receiver's chat window as well and it will be replaced by "You deleted this message" in your window and "This message was deleted" for others.
The 'delete for everyone' feature only works for up to seven minutes after sending the message. Secondly, deleting a message in no way ensures that the message wasn't seen by the recipient. And finally, you won't get any notification if deleting for everyone was not successful.
This feature is still very new so you might not be able to use it right now.